Inspection Drones
The Inspired Flight IF1200 is a commercial inspection drone for inspection applications across ALL Industries – including but not limited to; power line inspection, crop farming and agriculture inspection, solar panel farm inspection, wind turbine inspection, rail drone inspection, utility inspection, telecoms (cell tower inspection drones), bridges (infrastructure inspection drone), and construction inspection.
Maintenance inspections are vital to the life-cycle of your assets, whether they are high in the air, spread out across miles, or isolated and remote. Inspectors frequently have to put themselves and their equipment at risk just to see if there is anything to fix. More often than not, the equipment receives a clean bill of health, and the Inspector is off again to the next site to repeat the same lengthy and expensive process.
Inspired Flight's UAV solutions allow your business to mitigate those risks and costs. Autonomous drone inspections allow Inspectors to stay safely on the ground while looking for the most minute changes in physical condition. The information gathered from the drone can help monitor degradation rates, allowing you to make data driven decisions on the health and maintenance of your equipment. The high resolution images recorded allow your team to see damages on the scale of millimeters with a LiDAR solution, or the change in temperature of less than 50mK in the case of a FLIR solution, with the click of a button. This saves not only time and money, but mitigates risk to your team while letting them accomplish their tasks more reliably and efficiently.
We want to redefine asset inspection for your company by conserving resources, increasing safety, and improving reliability.
Types of Customers Deploying Drones for UAS Inspection:
AECOM
Orbital Engineering
PrecisionHawk
Cyberhawk
ULC Robotics
Dronegenuity
Preformed Line Products
Valmont Utility
FirstEnergy
G2 Integrated Solutions
RPG Resources
FlyGuys
The following industries are the most common applications of Inspired Flight's Commercial Drones with custom payloads for asset inspection.
Powerline Drone Inspection: Substation and Corridors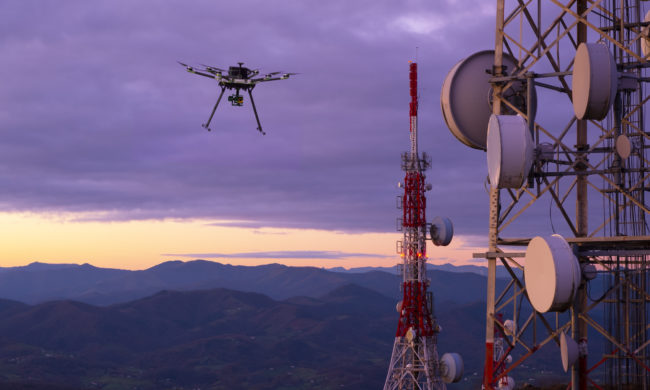 Inspecting power lines is an extremely common use of commercial drones. Power Lines are vast, tall, and often times secluded. Using drone technology helps tremendously in alleviating the tedious task of inspecting corridors, substations, and other necessary parts of the energy grid.
Power lines span far distances so drones help to reduce the very time-consuming task of manual inspections. Also, drones assist in close-up visuals of assets which eliminate the risk of missing visuals when viewing from the ground.
Drones can be launched within minutes, cover massive areas during flight, and deliver actionable data and information about assets that help you protect your assets, the environment and the safety of your crew.
Common Payloads for Drones When Inspecting Power Lines, Substations, and Corridors
EO/IR Payload for Powerline Inspection: Workswell Wiris Pro
Radiometric EO/IR payloads such as the Workswell Wiris Pro provide another level of information vs optical payloads when inspecting power grid assets. The Wiris Pro provides thermal imaging data during inspection which allows inspectors to capture visual and numerical data that would otherwise not be visible – something that is critically important when inspecting assets such as the power grid.
The Workswell Wiris Pro is a payload that would be commonly seen in many industry applications including agriculture, solar panel inspection, wind turbine inspection, rail inspection, telecom tower inspection, bridge & infrastructure inspection, and construction inspection.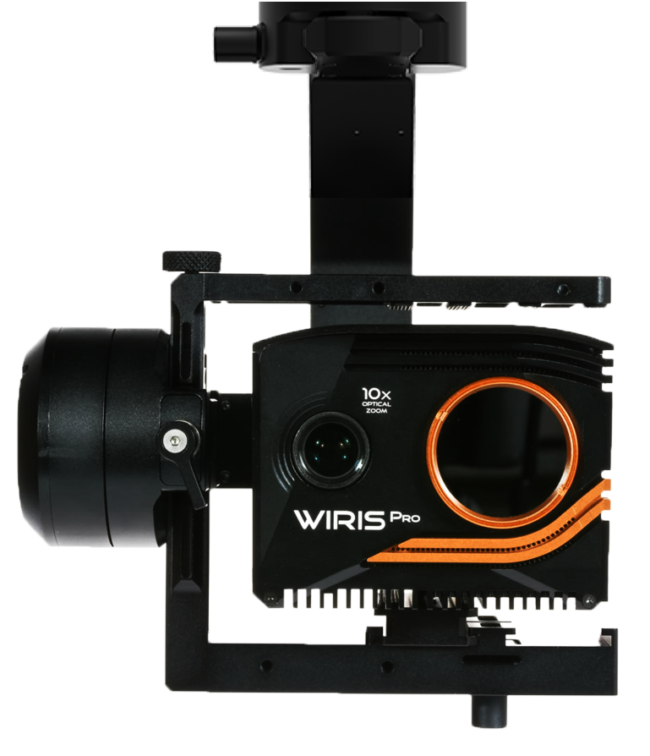 Optical/Photogrammetric Payload for Powerline Inspection: Sony a6500 or A7R iv
Optical payloads help to obtain reliable information about the physical object being inspected and it's environment. The Sony a6500 and A7R iv are both professional grade mirrorless cameras with super high resolution that provide very detailed imagery and video of assets being inspected.
Optical payloads such as the Sony a6500 and A7r iv are payloads that would be commonly seen in many industry applications including agriculture, solar panel inspection, wind turbine inspection, rail inspection, telecom tower inspection, bridge & infrastructure inspection, and construction inspection.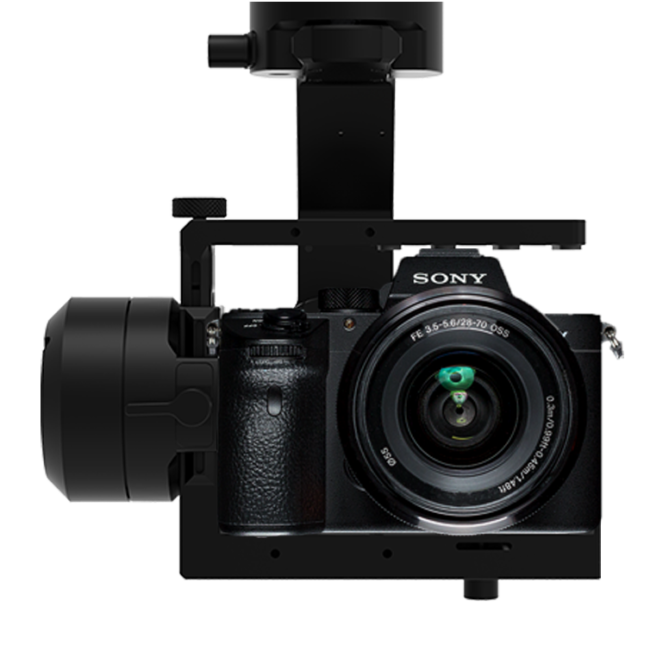 Agriculture and Farming Drone: Inspection
(Farm drones, Drones in agriculture, Crop inspection drones )
Farms, although not tall, span miles and cover potentially up to thousands of acres. It becomes nearly impossible to effectively inspect crops and land without a drone. Inspired Flight's Drones for usage on farms and crop inspection are critical for any agricultural operation.
Water management and waste run off may be one of the most important parts of agriculture drone inspection. For this we turn to a payload that helps determine water stress.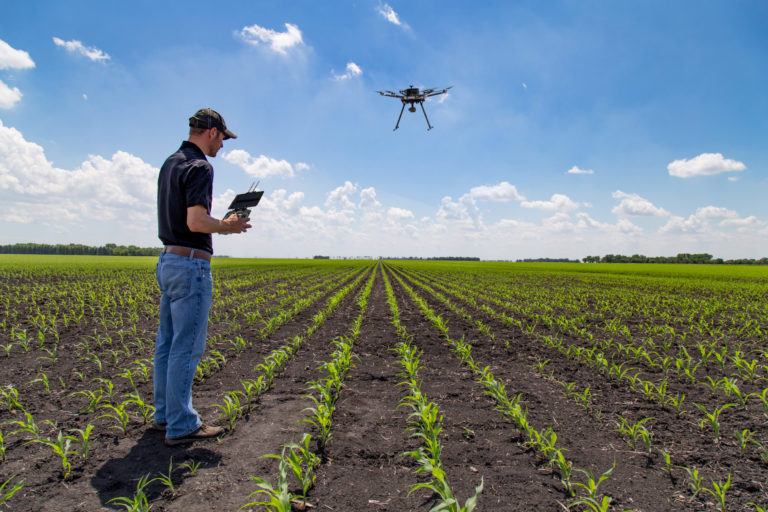 Payload for Farm Drones: Crop Inspection
When it comes to precision agriculture, we look no further than the Workswell Wiris Argo R. This payload from Workswell plays a critical role in determining the water stress in a given area. The data collected from this can help optimize irrigation, determine yield maps, and fine-tune water management strategies.
Inspired Flight supports many agricultural operations who turn to the Argo R payload for inspecting their operation.
Solar Farm Drone Inspection
One of the key objectives when inspecting solar panels in a solar farm is identifying faulty panels so they can be replaced by the manufacturer while still under warranty. This maximizes output and efficiency and proactively addressing these issues on a regular basis will save money on maintenance cost in the long run. Solar panel inspection with drones utilizes thermal imaging with EO/IR payloads along with optical payloads to get detailed, data backed information for quick and effective inspections.
Drones for solar farm inspections provide a lot of value in many ways. This includes:
Quick and easy scans of roof tops and vast farm areas
Quick identification of hot spots showing defective panels
Diagnostics for planning of panel placement
IR signatures to show defectiveness
Keeping solar farm running at maximum efficiency
Saving time with structure inspections
Wind Turbine Inspection: Drones
Wind turbine inspection is relevant in all stages of a wind farm's lifestyle. The inspection of wind turbines helps to assure the organization that the asset is constructed well during fabrication, maintained well, and performing optimally. Also inspection may be required by law or by insurance and drones can provide the means necessary to easily abide.
Inspired Flights commercial drones are used in wind turbine inspection and this helps monitor the condition of the turbine and manage maintenance and repairs when necessary. Some of the benefits of wind turbine and blade inspection with drones include the following:
High-res images of inspection with optical drone payload
Thermal data with EO/IR payload inspection
Drones stay in function during inspection both on and offshore
More insightful, precise, and actionable optical and numerical data
Reduction in costs with lower man hours and less safety risks
Real time image and video transmissions
Rail Inspection Drones
Nowadays railways are being monitored by drones regularly, many areas of railway are very isolated between stations. Drones give us the technology to much more easily visually access and inspect railways when necessary.
Drone inspection for railways transformed the industry providing improvements in safety and reliability.
The drone industry has become critical for railways, drones now monitor railway infrastructure such as high-voltage electrical lines, railway catenary lines, and tracks & switching points.
Drones help magnify the process when detecting defects, cracks and other dangers quickly. Inspections are also easier to do more frequently and with the regular usage of railways this is important as issues can develop quickly.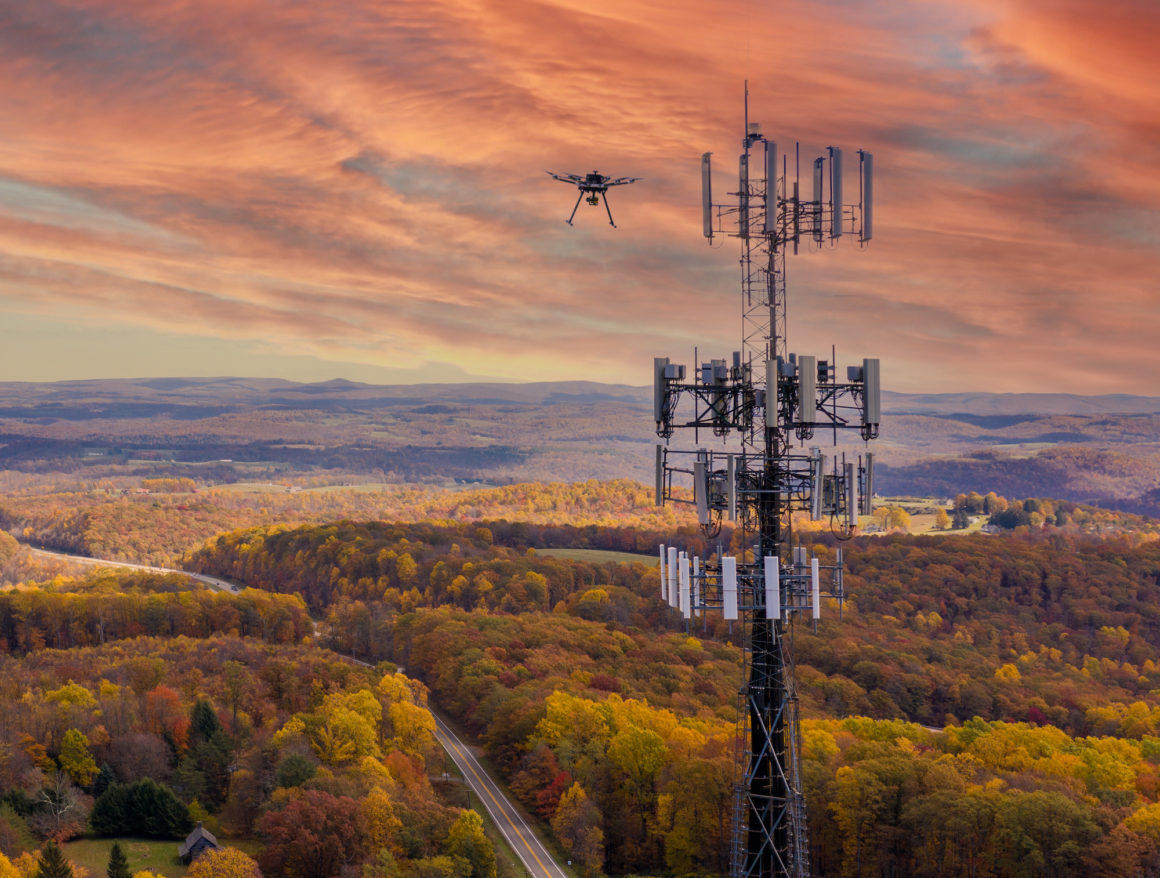 Telecom Inspection – Cell Tower Drone
Cell tower inspections were very tedious before drones became standard practice. To inspect a cell tower it would require a lot of heavy equipment, a person climbing the structure which is risky, dangerous, and leads to huge insurance costs. Many cell companies have already integrated drones into the regular inspections and although it can make the job easier, it comes with it's own challenges. To inspect a tower a skilled drone pilot must fly very closely to the tower and inspect things precisely with either high-res cameras or thermal imaging devices. Luckily Inspired Flight eases that burden with reliable, high-quality, commercial drones built to take on tough mission and be loaded up with any payload necessary.
Drones provide a lot of value when it comes to inspecting cell towers, this includes things like:
High-res visual inspections compared to ground inspections
Massive reduction in man-hours
Safer environment when inspecting the condition and orientation of all cell tower components
Keeping a safe distance
Towers remain in use during inspection
Improved efficiency and data accuracy with reliable tools and instruments such as optical cameras, LiDar device, and thermal imaging (EO/IR) devices.
Commercial drones have changed the way that telecom companies are inspecting and managing the maintenance of their asset infrastructure by enabling a safe, quick, and reliable way to collect visual and numerical data on their cell towers. Inspired Flight supports many telecom companies with drone inspection, with drones such as the IF1200, an industry-leading flagship drone that is built to withstand all inspection tasks with any payload needed, including optical and EO/IR payloads such as the Sony a7R iv and Workswell Wiris Pro.
Bridge and Infrastructure Inspection Drone
Bridge and infrastructure catastrophes although not very common have occurred and have caused a lot of casualties. Drone inspection of bridges and infrastructure drastically improve maintenance and safety of such assets, providing a safer road system for everyone.
Drones offer a way to cut costs, provide better data and improve safety for bridges and bridge inspections themselves. According to many sources bridge inspections can be costly, in the many tens of thousands of dollars, and take a lot of time — sometimes over a week. The same type of inspection with a drone would only require a couple inspectors and a few hours, the cost is absolutely slashed to be nearly negligible compared to a fully manned bridge inspection.
Safety is also improved with drones allowing the inspectors to be safe, and inspect hard to reach areas with ease compared to actually accessing those places manually.
Drones also collect data with optical or EO/IR payloads which record data and images for super precise and actionable data to review.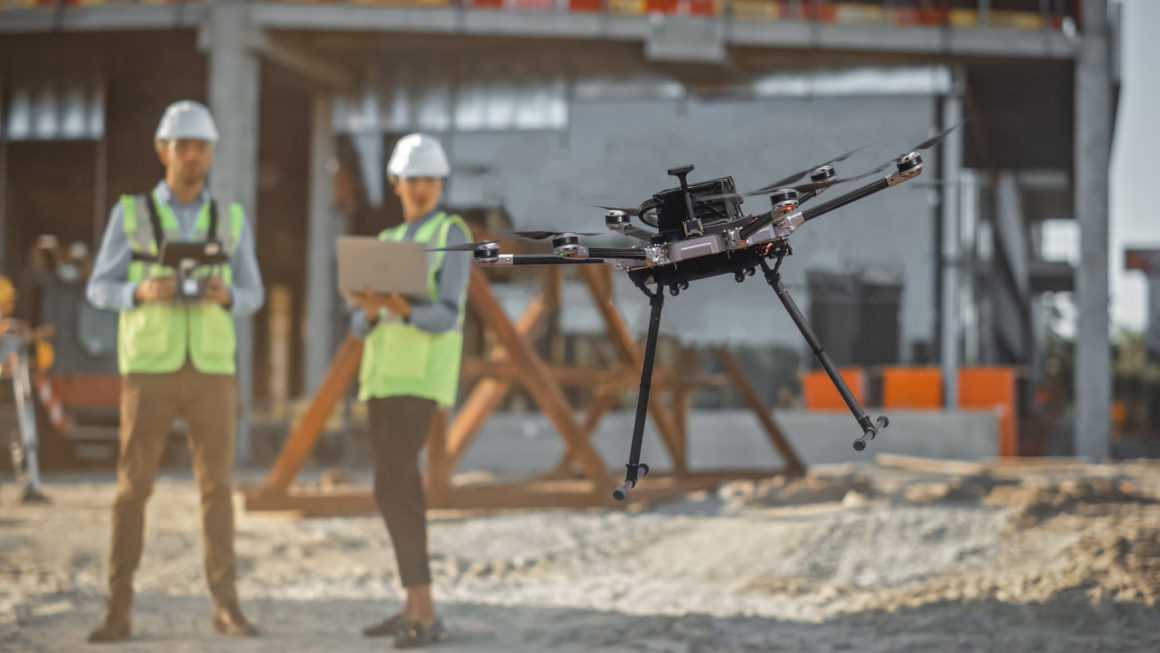 Construction Inspection Drone
Drones in construction are critical for project management and moving projects along in a timely manner.
Similar to the benefits of drone inspections in other industries, such as agriculture, construction sites need to be able to gather aerial data on the status of projects quickly and efficiently to help move projects along and save money on time and labor.
Drones provide many benefits to inspection of construction projects, some of these include:
Increase accuracy in reports
More consistent report because of ease
Better safety conditions by using drones and spotting issues
Overall efficiency improvements
Aside from inspection of construction, drones can also be used in the planning component of a construction project by providing visual, optical, and even 3D and orthomosaic data of an area to help identify location and streamline deciding on building sites with actionable data. The data and maps gathered during planning can be used throughout the time of the project to help monitor and manage the project.
Construction often comes with delays and using drones help with this massive issue in construction. When drone technology is able to increase the consistency of inspection, improve safety, and help work happen efficiently – many delays in the construction process can be avoided. This can lead to huge savings in construction cost when less labor is needed, materials are most efficiently utilized, and hiccups are totally avoided but they become massive problems and delays.
Common construction assets that may need to be inspected include things like; land, construction site itself, stockpiles, fencing or other safety precautions, and overall inspections for crew safety.
Consider Inspired Flight's IF1200 to be your new Inspection drone workhorse.
Contact us to learn more.