Inspecting powerlines can be a dangerous endeavor. Though most utility companies leverage helicopter inspections to lift a single person to complete visual inspections, this process can put both people and machines at risk—and it's time-consuming.
For this reason, many utility companies and power grid operators are turning to commercial drones for powerline inspections. Drones or unmanned aerial vehicles (UAV) allow utility companies to revolutionize their capabilities when it comes to powerline inspections.
For example, a high-quality commercial drones with a LiDAR payload can allow power line operators to leverage the power of light detection technologies to conduct inspections.
Drones offer unparalleled capabilities for utility companies seeking to inspect power lines and complete the operation in a time-efficient manner.
In this article, you'll learn more about powerline inspection drones and how you can leverage them.
Table Of Contents:

What Is a Powerline Inspection Drone?
A powerline inspection drone is a type of commercial heavy-lift drone that can conduct power line inspections without the need for a human eye.
Commercial drones do not carry human passengers, but include a human operator and can carry a payload, including high resolution cameras, LiDAR scanners, thermal equipment, and many other types of payloads.
They can typically withstand a heavy payload capacity, have longer flight time, and leverage remote ID the ability to provide identification and location information to a third party.
Questions? Need a product demo? Need additional information? Contact us and a member of our team will get back to you promptly.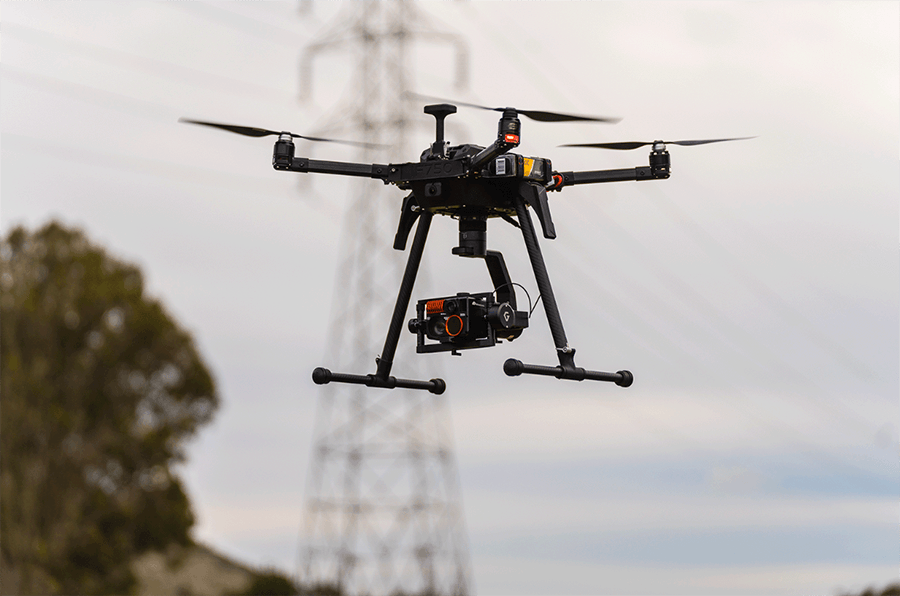 How Can Drones Complete Powerline Inspections?
Drone technology can efficiently tackle power line inspection challenges along the power grid.
For example, a commercial drone with a thermal camera payload can measure the heat emitted from a powerline to analyze voltage and determine contact resistance to provide detailed analysis to allow you to make real-time decisions.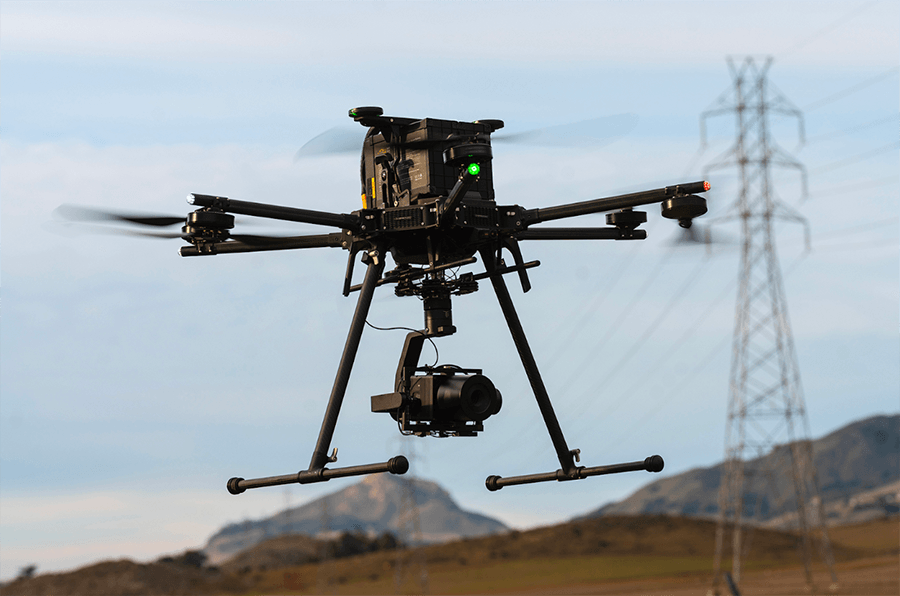 Heavy lift commercial drones can also carry a precise high-resolution LiDAR camera necessary data collection along distribution lines.
These commercial drones are also equipped with on-board software, meaning they can process relevant data in real-time, providing easy end-to-end solutions.
Commercial drones for powerline inspections can also monitor vegetation encroachment, locate bird's nests, determine lightning strikes, and much more.
They can also geotag images and identify the best solution to your problem—while your drone operator stands at a safe distance.
They essentially allow you to complete a job from the ground, all the while using state-of-the-art technology and high-resolution images to determine your next step.
How Powerline Inspection Drones Work
Powerline inspection drones offer end-to-end capabilities for teams needing to inspect or repair power lines.
The power line drone will capture enormous data, allowing you to immediately create a work order and tell your workers where to go and what to do.
They can perform many functions, including inspecting the safety and reliability of power line wires.
They can also conduct fault inspections by capturing the status of the grid from multiple angles, and they can measure the distance of nearby vegetation from power lines.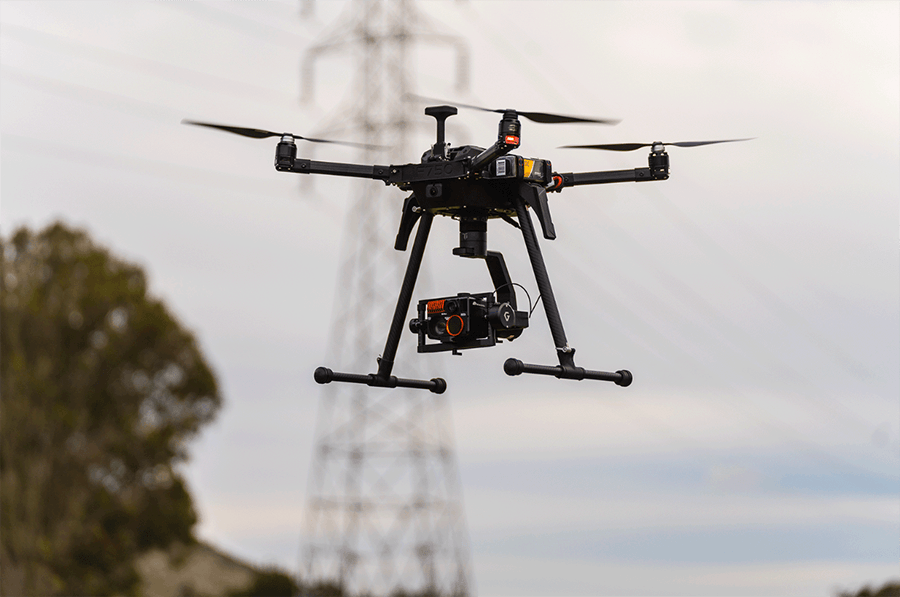 Powerline drones can also carry a thermal sensors to detect abnormalities in power lines and prevent wildfires, ensuring the safety of all involved.
Benefits of Powerline Inspection Drones
There are many benefits to using powerline inspection drones. They are safer, more cost-effective, efficient, and offer end-to-end inspection capabilities.
Cost-Effective Solutions
Operating a helicopter can be costly. Many companies spend upwards of $10,000 a day on helicopters, and if you don't own your own, you'll find yourself spending hundreds of thousands of dollars a year on the equipment you don't even own.
Thankfully, drones offer more cost-effective solutions than helicopters. Purchasing a drone is a long-term investment; once you own it, it's yours.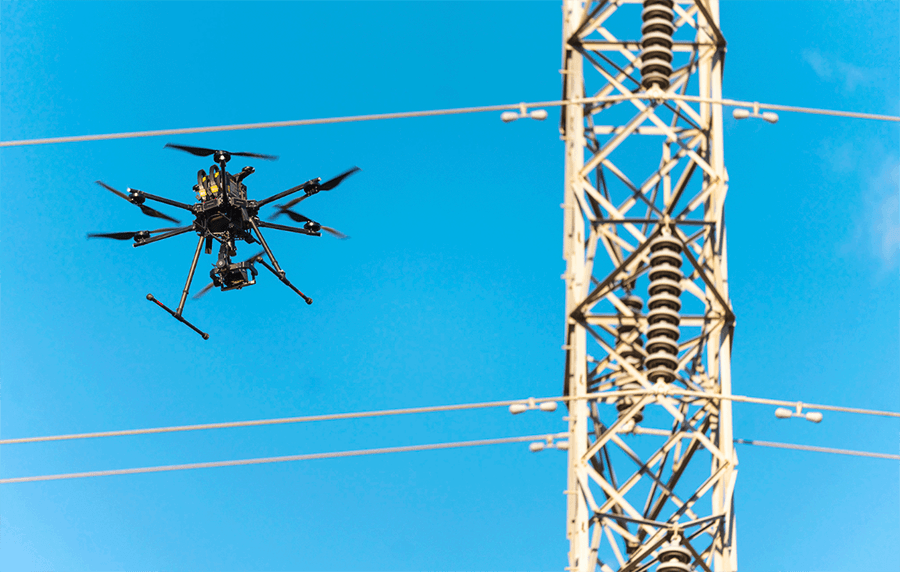 Drones are also far more efficient than traditional methods, allowing you to operate with precision and save money in the long term.
Safer Than Traditional Methods
Traditional methods of powerline inspection can be extremely unsafe.
According to the Bureau of Labor Statistics, power linemen face some of the most dangerous jobs, with ten fatalities for every 10,000 linemen.
Those fatalities typically involve helicopters—and helicopters themselves can be pretty unsafe. Using a drone saves you the risk of sending your workers into dangerous situations.
Drones are more precise than helicopters, and since they don't require linemen to complete their tasks, they can protect your workers from potential harm.
Additionally, drones are highly high-tech and operate precisely, so you can trust that your equipment will be safe too.
Lastly, American-made drones allow for complete privacy when using the device, so you can trust that you won't be exposed to outside interference.
Increased Efficiency
Drones are powerful machines that offer enhanced capabilities compared to traditional inspection methods.
They can carry heavy payloads high-powered optical cameras that allow you to check your equipment quickly and efficiently.
An optical and EO/IR imaging payload, for example, will enable you to generate electro optical and infared images of your powerline efficiently and effectively.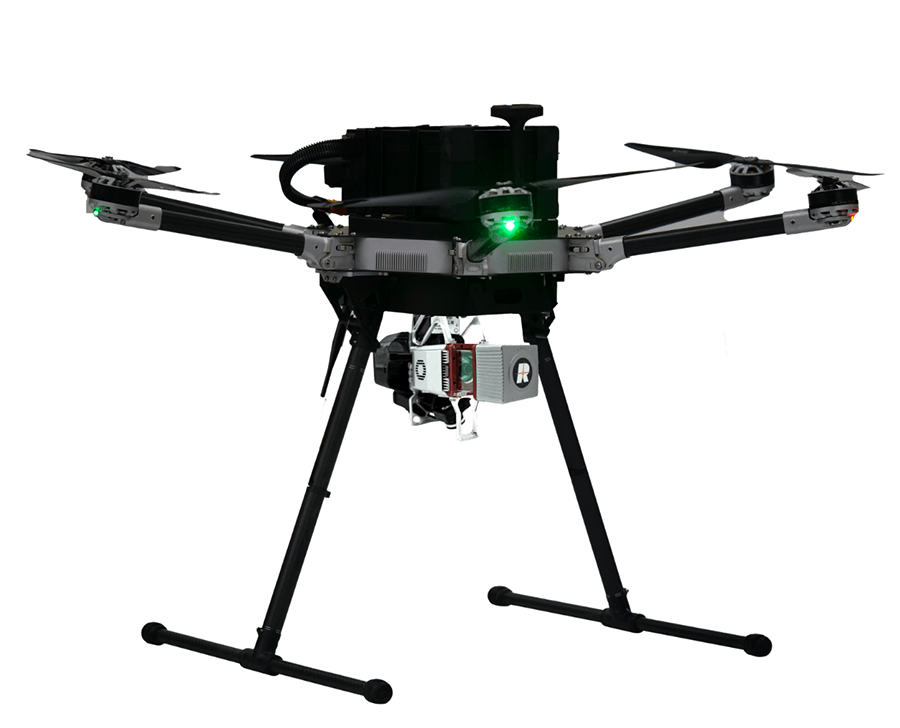 Commercial drones from Inspired Flight have a universal payload allowing you to tailor state-of-the-art drones to your needs.
More Accurate Data
Gathering data is essential to any power line inspection—but it can take time.
Powerline inspection drones offer more accurate and immediate data than traditional methods. They can fly along power lines, sending data to your computer and allowing you to make better decisions—in real-time.
End-to-End Inspection Capabilities
Commercial drones offer unparalleled end-to-end capabilities when it comes to conducting power line inspections.
High-quality commercial drones allow you to plan speed and altitude before you launch the device, collect data in real-time, and report back to your chosen software.
They can empower you to harness and examine data on a grander scale, allowing you to expedite assessing, maintaining, and upgrading equipment.
They can carry various cameras and payloads to help drone operators inspect and access repairs from the ground, providing detailed analysis in the form of images and other data.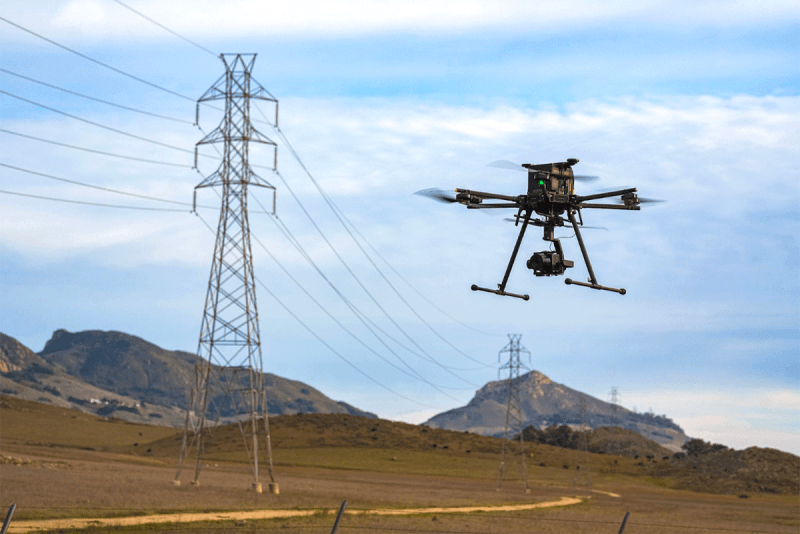 The Best Powerline Inspection Drones
The best powerline inspection drones offer unmatched capabilities, allowing you to conduct power line inspections from start to finish without the usual challenges.
The best powerline inspection drones offer:
Heavy Lift Load: Commercial drones can withstand the weight of all your equipment without sacrificing speed and efficiency.
Remote ID Capabilities: Remote ID allows the drone to report location and other metrics so you can track its progress. You can plan a flight path across a visual line, utilize point cloud, and more.
Universal Payload Interface: Drones with a universal payload interface allow you to use various differents to cameras and imaging equipment to fit your specific use case and needs.
NDAA Compliance: This term indicates that the US government has deemed the device suitable for military and governmental use.
Blue UAS Certification: Blue UAS drones have been vetted by the Department of Defense and the U.S. government for military use.
Military-Grade Security: American-made drones are highly secure and leverage military-grade security features to protect your company from foreign interference.

The How To Get Your Hands on a Powerline Inspection Drone
Operating drones is the next step in powerline inspection capabilities.
They are an attractive alternative to helicopters, and they offer the best solution for power line operators to complete their jobs.
They offer unmatched protection against physical harm, data breaches,and save you significant amounts of time and money over the short and long term.
Having a drone can allow you to conduct operations more efficiently, so you can focus on the things that matter most.
If you've decided it's time to get a powerline inspection drone for your utility inspections, contact Inspired Flight today to learn more about how our industry leading commercial drones can help you.
Questions? Need a product demo? Need additional information? Contact us and a member of our team will get back to you promptly.